Advertising Inflatables
Advertising Inflatables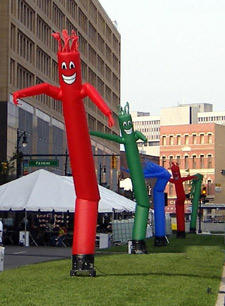 If your company is running a sales promotion, special event, or open house, let our inflatable Sky Dancers point the way to your door. These attractive, advertising inflatables have proven themselves time and time again as they wiggle and wave new customers or guests to your entrance. Advertising inflatables offer a variety of useful benefits. And they work.
Draw traffic and increase sales.
Work around the clock for "cost effective" advertising.
Create excitement and draw attention to your business.
Create product recognition and brand awareness.
Advertising Inflatables are easy-to-use and portable, easy-to-move.

Call Jumpin' Jacks Today! Start Attracting Attention Fast