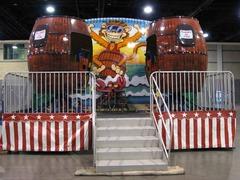 Berrels Of Fun
Dimensions:
Outlets:
Monitors:
Please call to reserve this item.
Keeps 'em coming back again and again! Passengers use the wheel in the center of the barrel to control how fast or slow this ride goes! Has electronic timer for standardized ride cycle. Ride is elevated for greater visibility of tropical theme. More fun than a barrel of monkeys!! (4-6 passengers per barrel). Safety fence and ride signs included. NCDOL inspected. Ride operator provided by Jumpin' Jacks
Book Online or Call 704-708-4564
Delivery to Charlotte and surrounding areas.

Professional On-Time Event Crew!

Book Today!