Charlotte Corporate Events
Jumpin Jacks has been planning events for since 2003.
In charge of planning your company's next Corporate Event? Feeling a bit stressed and overwhelmed with trying to plan this on your own? Fret no more! Allow Jumpin Jacks to lend a helping hand. We can help make sure your corporate event is the talk of the break room! Choose from one of our pre-made packages or use them for a starting point to customize your own. Call to speak with our sales associates today to get your event booked! 704-708-4564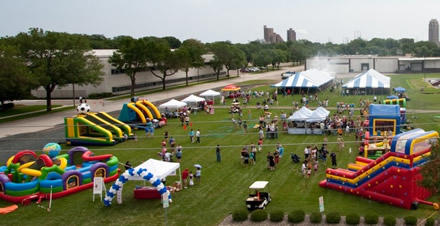 Let us help you make planning your event easier by choosing from one of our packages below. Please note that no items, times, or addtional discounts can be used or substituted in these packages.

Jumpin Jacks Ultimate Event Package #1 Price: $4985.00 for up to 5 hours
Items in this package include: Castle Bounce House, Basic Bounce House, 26' Triple Lindy Slide, Full Court Press, 4 Player Joust, Backyard Obstacle, Extreme Camo Obstacle, Jumpin Jacks Warrior Challenge, Cotton Candy Machine, Additional Cotton Candy Supplies, Sno Cone Machine, Additional Sno Cone Supplies, 5 Generators. Booking this event as a package saves $553.00

Jumpin Jacks Event Package #2 Price: $3965.00 for up to 6 hours
Items in this package include: Wacky Arched Bouncer, Basic Combo, 22' Vertical Rush Slide, Human Wrecking Ball, Race Track, Soccer Game, Adrenaline Rush Obstacle, 3 Generators. Booking this event as a package saves $436.89

Jumpin Jacks Event Package #3 Price: $2505.00 for up to 5 hours
Items in this package include: Castle Bounce House, Ninja Jack Combo, 20' Dual Lane Slide, Mini All Star Basketball, Soccer Darts, Three Lane Bungee Run, 40' Obstacle. Booking this event as a package saves $280.00

Everything But the Inflatables Package #4 Price: $3010.00 for up to 5 hours
Items in this package include: Dunk tank, Race Track, Soccer Darts, Carnival Tent, Corn hole X 2, Can it, Down a Clown, Down the Duck's game, Golf Challenge, Kiddie High Striker, Quarter Back Toss, Spin Art, Penguin Fish Fling, Streetskeet, StrikeZone, Tic Tac Toss, Popcorn Machine, Cotton Candy Machine X 2, Popcorn Supplies for 300 people, Cotton Candy supplies for 300 people.
Booking this event as a package saves $301.00
Need an event setup? Need it to be fun filled games for all with no inflatables? This is the package for you! Call us today to get this or customer to fit your venue.
Everything But the Inflatables Made Affordable Package #5 Price: $995.00 for up to 5 hours
Items in this package include: Carnival Tent, Soccer Darts, Kiddie High Striker, Quarter Back Toss, Street Skeet, Strike Zone, Gone Fishing.
Booking this event as a package saves $115.00