Click Here to see all rental categories now!
Welcome to JumpinJacks Party.com!
At Jumpin Jacks, we strive to provide our customers in Matthews with safe, reliable, clean party and rental equipment. We offer a hassle free, one stop planning and shopping spot for all of your party or event needs.
Safe: Our inflatable units are insured and inspected by the state of NC.
Reliable: A good percent of our business in Matthews over the years comes from referrals. Accuracy, dependability and safety are a top priority.
Service: We deliver to the following cities: Charlotte, Matthews, Indian Trail, Monroe, Fort Mill, Concord, Huntersville, Mooresville, Davidson, Gastonia, Belmont, Mt. Holly, Pineville, Harrisburg, Weddington, Waxhaw, Mint Hill, Lake Wylie, Tega Cay, Cornelius, Kannapolis, Rock Hill, and Lake Norman.
Matthews Party Rentals: You have decided to have a party, but still don't want to have hours of planning to do. You still need to put your forty hours in at work, and you want to actually rest during the evenings.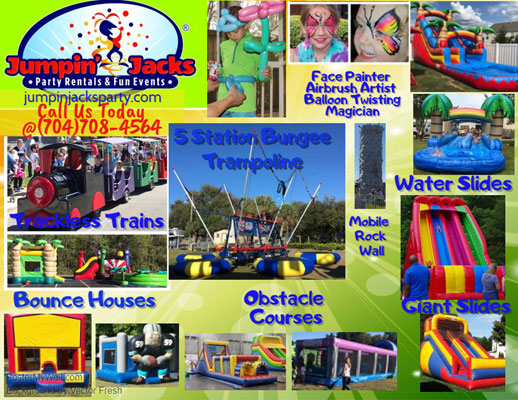 Our COVID-19 Procedures are in Place!
We want you to know that at Jumpin Jacks Party we are taking your, your family's, and guest's safety very seriously. As a result of new state guidelines we have implemented new COVID-19 policies and procedures and are now offering "No Contact Deliveries". We appreciate the trust you place in us to provide fun, clean, and safe experiences for you and those you love.

Jumpin Jacks Partywants to update you on the steps we are taking to protect the valued members of the Jumpin Jacks family, both customer and employee.
See What's New For Matthews at Jumpin Jacks!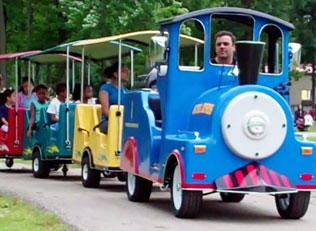 Trackless Train
Every little kid dreams on going on a party train ride, and now kids and adults will love to wave goodbye as they chug along the road in one of our trackless train rentals. Our trained "engineers" will make sure everyone in your birthday train party have an enjoyable and safe ride.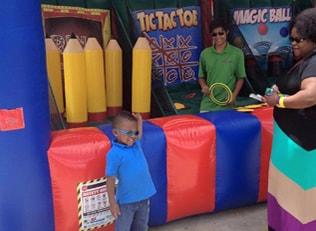 Carnival Games
This is the perfect start to hosting your own carnival theme party with the Inflatable Carnival Midway & a favorite for School Carnival Events. The Carnival Midway includes games for 4 people to play at the same time and plenty of built in rings and places to display your prize items.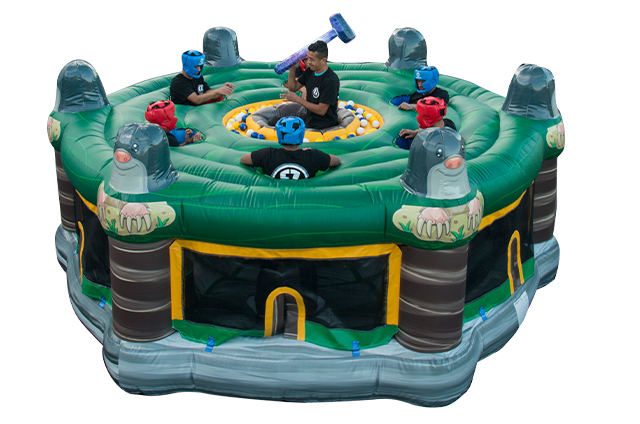 Human Whack-A-Mole
Inflatable human whack-a-mole is a fun and interactive game that is usually played in outdoor settings. The game is designed to mimic the popular whack-a-mole arcade game but with a twist – instead of moles popping up from holes, it's humans who pop up and down from inflatable holes. It's a great group activity for parties or team building events.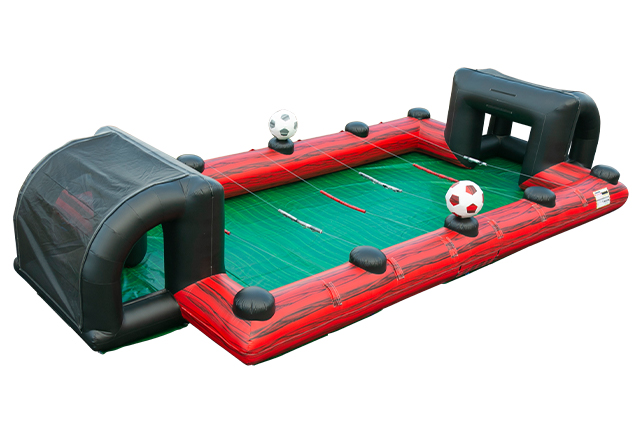 Human Foosball
Jumpin Jacks Party Rentals Inflatable human Foosball is a popular outdoor game that combines the classic table game of Foosball with the excitement of outdoor activities. The game is played on a large, inflatable field that mimics the look and feel of a Foosball table. Players stand inside the inflatable field and hold onto poles that are attached to the top of the inflatable walls.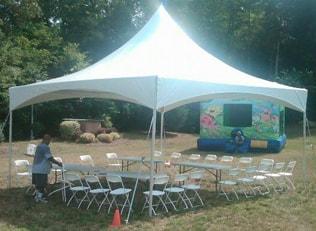 Tents, Tables & Chairs
Create your own elegant outdoor party space with a complete tent, table and chair setup from Jumpin Jacks! Let one of our party pros help you design an outdoor environment that will comfortably seat all your guests and provide convenient shelter from inconvenient weather. We'll rock your party!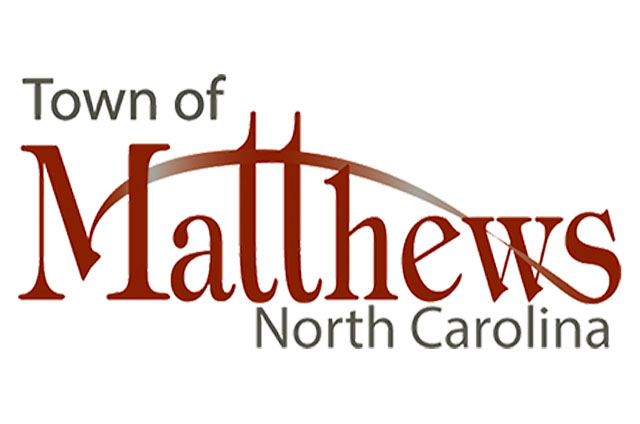 Welcome Matthews North Carolina!
Individuals or organizations that wish to use a park on a specific date and time for a special restrictive purpose, must reserve each facility. A Park Use Permit must be completed and the appropriate fees paid prior to the applicant receiving a Park Confirmation Letter. The philosophy of the department is that parks should be open and available to the general public on a daily basis.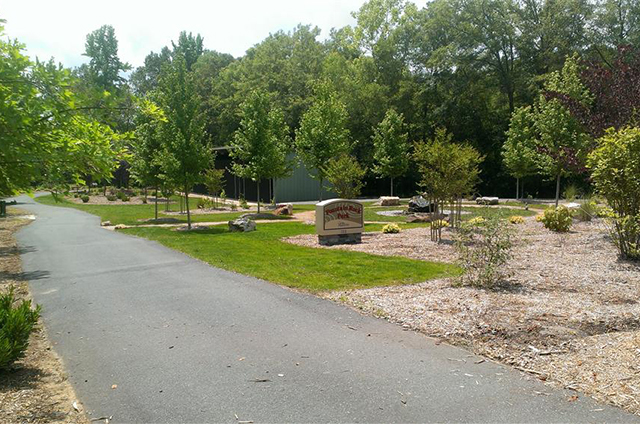 Fountain Rock Park Matthews, NC
Fountain Rock Park is an oasis in the midst of the Four Mile Creek Greenway. This passive park is for relaxation or a break from your walk along the greenway. Here you can sit and meditate at the flowing fountain, have a picnic, or read a book.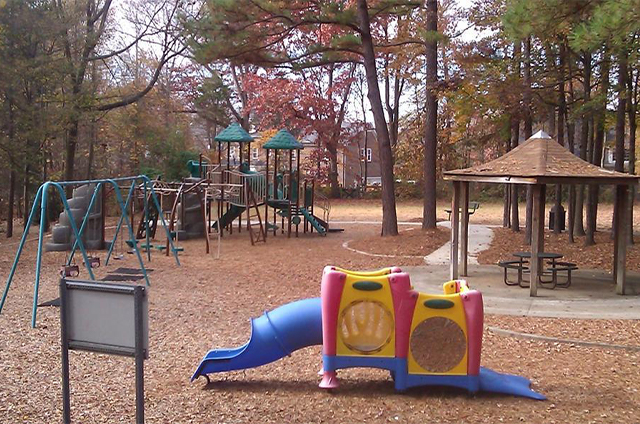 Matthews-Sardis Park Matthews, NC
This 2.8-acre park contains a gazebo-style picnic shelter with tables, playground and swings, paved walking trail, open grassy play area, and portable restroom. Gazebo can not be rented, but is available first come first serve.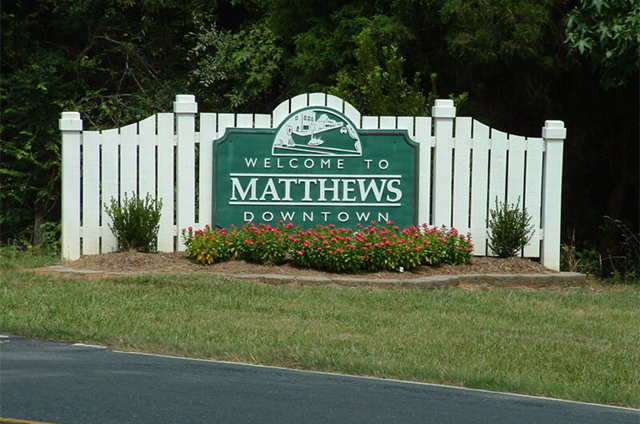 Matthews NC Bounce House Rentals Delivery Area
Bounce House Rentals Delivery Area information for Matthews residents.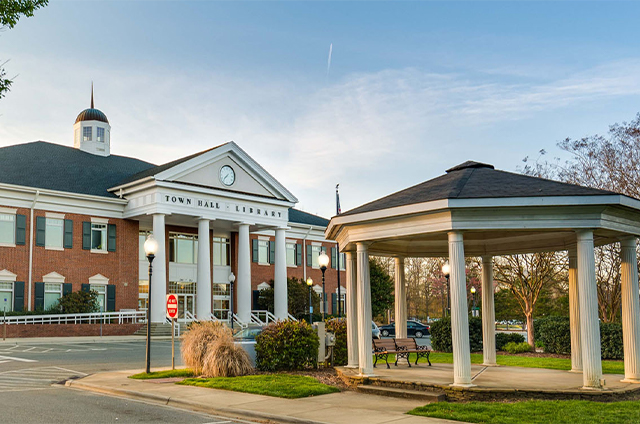 Matthews NC Bounce House Rentals
Privacy Policy
Bounce House Rentals Privacy Policy for Matthews Residents.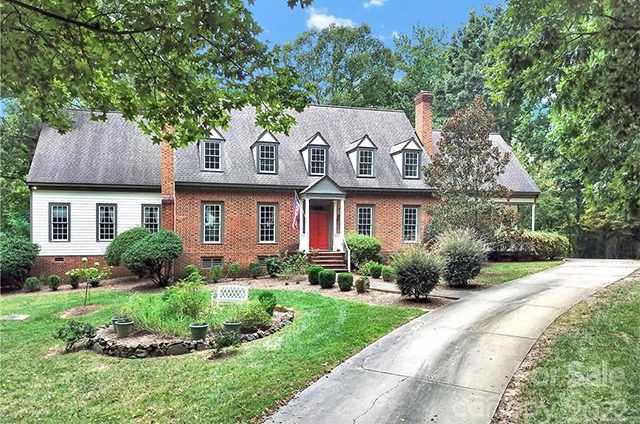 Matthews NC Bounce House Rentals
FAQ's
Bounce House Rentals Frequently Asked Questions by Matthews Residents.