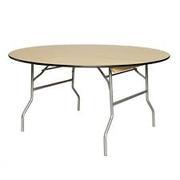 5 Foot Round Tables
$9.00
Dimensions: 60" Round x 30"H
Outlets:
Monitors:
5 ft Round Table
Seats 6-10 comfortably
You can't have a party without tables!
Don't forget the tables for your next party! Jumpin' Jacks offers a variety of tables, all in different sizes! This one isn't the size for you? Go back to the previous page, and we guarantee you'll see what you need!