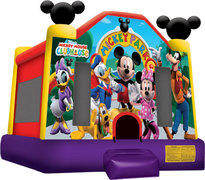 Mickey Mouse Bounce House
$155.00
Dimensions: 15'L x 15'W x 13'H
Outlets:
Monitors:

Oh Toodles!!!
The licensed Mickey Park large jump will inject your next party or event with a little club house fun, as Mickey and his pals invite everyone to the Mickey Mouse Club House! A pair of trademark, three-dimensional Mickey ears helps show the way, and sharp, colorful artwork make participants feel they're at Disney! This jumper features Mickey, Minnie, Daffy, Daisy, Goofy and the Mickey Mouse's faithful pup, Pluto, perfect friends for kids to jump alongside all day!
Note: A minimum rental of $225 is required for delivery. We have games and concessions to add to reach the minimum rental amount.
Customer Review:
"Another awesome event with Jumpin Jacks! Thank You for everything you did to make our Church's 30th anniversary such a success!" Heather Clever