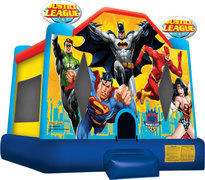 Justice League Bounce House
$155.00
Dimensions: 15'L x 16'W x 13'H
Outlets:
Monitors:
Who is your favorite hero?
This Justice League large jump is the perfect bouncy castle for aspiring superheroes, allowing plenty of room to practice those superhero moves. The Justice League characters are ready to welcome visitors, with smiles from the Green Lantern Superman, Batman, Flash and Wonder Woman. This adventuresome bouncy castle includes a pair of three-dimensional "Justice League" logos, letting visitors know the location of this fun-filled jump. Also has Basketball hoop inside.
Note: A minimum rental of $225 is required for delivery. We have games and concessions to add to reach the minimum rental amount.